February 1st, 2021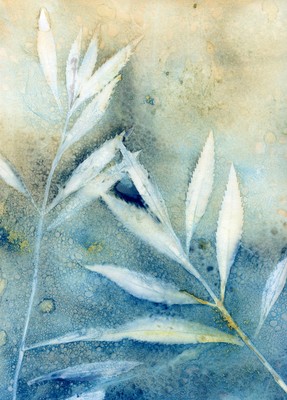 During the 2020 Covid pandemic, I began exploring the wet cyanotype process. Luckily, one of my cyanotypes was included in Art. St. Louis' HOPE exhibit. This online exhibit features work from St. Louis area artists
The Virtual gallery can be found here: https://www.artstlouis.org/index.php/exhibitions/in-the-gallery/hope
• Facebook Album with all 48 works in the show: https://www.facebook.com/media/set/?vanity=ArtSaintLouis&set=a.10157576909911962
• Facebook Event for the exhibit: https://www.facebook.com/events/1671869109682945/

Tips for viewing the Virtual Gallery: You can view the Virtual Gallery on your computer or tablet using any web browser. If you have difficulty seeing artworks on the desktop version of this presentation, clear out your cache and completely refresh your browser (hold down the Shift Key while you also refresh the browser page), then reload the exhibit to view. To view the Gallery on your mobile device, download the Exhibbit mobile app for free free from your App Store.

Juror, Robin Hirsch-Steinhoff's statement:

"I created "Hope" as our first virtual exhibit of 2021 as an act of pure optimism. Optimism that the world and its inhabitants would be in a better place in the new year. Yes… I realize that every new year brings us a renewed sense of hope, but as I'm sure you'll agree—2021 is different.

As we closed out 2020, there seemed to be a resounding sense that 2021 could begin to heal humanity and the world at-large. As the new year approached, I felt a rising energy from the regional art community—artists seemed especially driven to express that surge of hope in their works, suggesting that a more positive future was well within their grasp. Or maybe I'm just projecting. But then again, when we look at art don't we often project our own experiences into what is presented before us, interpreting that artwork through our own lenses?

For the "Hope" exhibit, we asked regional artists to submit artworks that consider, interpret or depict the idea of hope and how it applies to the events of 2020 as well as how it affects them in the new year. For jurying, 69 artists submitted 154 original artworks specifically created in 2020 or 2021 for my consideration from which I selected works by 48 artists from Missouri, Illinois and Kentucky for the show. This exhibit features 48 works in ceramics, collage, digital art, drawing, mixed media, painting, photography, printmaking, and textiles.

The artworks that I selected for the show address many responses to and interpretations and depictions of what hope means, including imagery about birth as well as rebirth—in nature, spiritualism, faith, parenthood, family. There are also works that depict a new day and images that present a clear path away from the viewer and, at least in my interpretation, toward the future. There are artworks that celebrate the family bond as well as what friendship means. And there are artworks that address the hope for concrete, lasting change. I hope that you will enjoy this exhibit and find expressions that speak strongly to you.

Thank you to everyone who submitted artwork for my consideration for this show and to the 48 artists whose works are featured here. It is my life's work to celebrate the work of our region's talented artists and I am honored to present these works to you in this special exhibit."